(Product) Red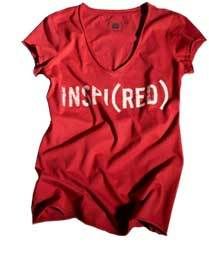 The Gaps's Public Relation employee paid a visit at SJSU during my PR 99 class today. Her presentation consisted of one thing, which was to promote and educate students Gap's Product Red. Product Red was founded by U2's lead singer, Bono. According to the guest speaker, Bono approach Gap at their headquarters in San Francisco during U2's stay in the Bay Area last year. Bono's objective was to simply team up with a clothing company (Gap) have the actual clothes made in Africa and sell it, gain profit for South Africa citizens to help the fight against AIDS, Tuberculosis and Malaria. Gap is not the only company participating. American Express, Apple, Converse, Motorola, as well as Georgio Armani are helping out with the cause. Out of the 6 companies contributing, Gap is providing the most by giving 50% of their net profit.
Product Red has been a huge success as far as advertising. When the red line come out this October, the Gap bought one full page in the New York Times with a Red advertisement. There were also various pieces that discussed the red line in magazines, newspapers and television news. Bono promoted Product Red to various media, but the most memorable was his visit on the Oprah show. Now, we all know Oprah has lots of power, which is to me is really scary, but thats a whole different topic. Back to Bono on the Oprah show, Oprah and him went to an actual Gap store in Los Angeles, where Bono spent informing and promoting the red cause. The aftermath of the show was amazing. Many people bought the product, thus causing Gap shows to sell out many of their items. No worries though, Product Red is a 5 year project, so Gap will definitely release more products in the years to come.
As far as a marketing point of view IF I was a marketing consultant for Gap, I think the campaign is great because 1) We are helping those in a need 2) Gap is making a great reputation therefore increasing their sells. (Hey I should know, I bought one of the shirts)
I truly believe Product Red will change promotion strategies for the face of marketing and advertising simply because they are gaining a name, profit, while helping the less fortunate.
Labels: American Express, Apple, Bono, Converse, Gap, Georgio Armani, Motorola, Product Red