What Do We Have To Lose?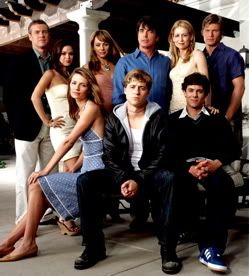 For all you
OC
fans, this post might be some important news for you. If you have not heard it yet, the show The OC will be premiering their new season on
MySpace
tomorrow. That's right, the first episode will not be premiering not on FOX network, but on MySpace. According to
Daily News Daily Dish
, the highly anticipated season will give fans a sneak peak of their first episode tomorrow at 3:01 a.m. until November 2. The first televised season premiere will be broadcasted on November 2 at 9 p.m. This season, The OC is under some stiff competition, going against CBS's
CSI
and ABC's
Grey's Anatomy
. Executive producer of the OC, Josh Schwartz, says by exposing the show earlier on the Internet will give viewers and fan a chance to see the upcoming season and hopefully draw more people to watch it on their Thursday n9 p.m. time slot. Since the show's day and time change, Schwartz along with his writers, decided to take it back to the good old days and make this season more like the first. This includes more humor and the characters driving the story.
I've only seen one season of the OC, and if this season is similar to the first, I will definitely give it a chance. Although I might be confuse since I have not been watching the past three. Schwartz's move is quite smart because 1) fans of the OC are usually High school and/or College students and 2) most high school and college students have MySpace. Like the saying goes, "kill two birds with one stone," those who go on MySpace regularly and are not fans will have the chance to watch the show. This is a great tactic to build more viewers and fans. The concern I have with Schwartz's tactic is if they're premiering the season opener earlier, isn't that preventing the season opener from high ratings? I'm really interested to see if the OC's rating will increase. I have a funny hunch that it will.